Uttar Pradesh's Chief Minister Yogi Adityanath made headlines in many Indian news channels for his govt.s' handling of COVID-19 crisis. Ok, that's normal and you must be wondering why a fact-checking website is interested in this news?? Here is something that you should know about the news. On January 6, news outlets like News18, TV9, ABP, Zee News , , and propaganda website OpIndia have telecasted/published news claiming that the renowned magazine 'TIME' has praised Uttar Pradesh's CM Yogi Adityanath handling of COVID-19 crisis.
The Yogi Adityanath's office has first shared this ad from their official twitter handle on December 15. The tweet that says, "Hang In There, Better Times are Ahead" , praises CM Yogi's management of Covid crisis by quoting the featured ad in TIME and falsely calling it a 'report'.
"Hang In There, Better Times are Ahead"@UPGovt Innovate Covid Management Model.

UP CM Shri @myogiadityanath Ji's deft handling of the COVID-19 situation is an extraordinary example of health administration under most trying circumstances.

Read full report in @TIME … pic.twitter.com/0PKV8V1VBe

— Yogi Adityanath Office (@myogioffice) December 15, 2020
The news is also shared in Twitter by many. Serial fake news peddler Rishi Bagree, former CEO of Bombay Stock Exchange, Ashish Chauhan, Uttar Pradesh BJP leader Swatantra Dev Singh and several others have shared the screenshot of the TIME's publication and praised Yogi Adityanath
Time magazine has published a 3 page article on excellent and efficient COVID management in UP by Yogi government pic.twitter.com/I7zPERkyCE

— Rishi Bagree 🇮🇳 (@rishibagree) January 3, 2021
FactO Check:
The TIME magazine has confirmed to Newslaundry and BoomLive that the three pages published feature is a sponsored content. On the top left, the words 'Content from Uttar Pradesh' indicates the same. Advertorials are not found on the magazine's official website. The same was pointed by a Twitter user who got the printed copy of the American and International editions of the magazine.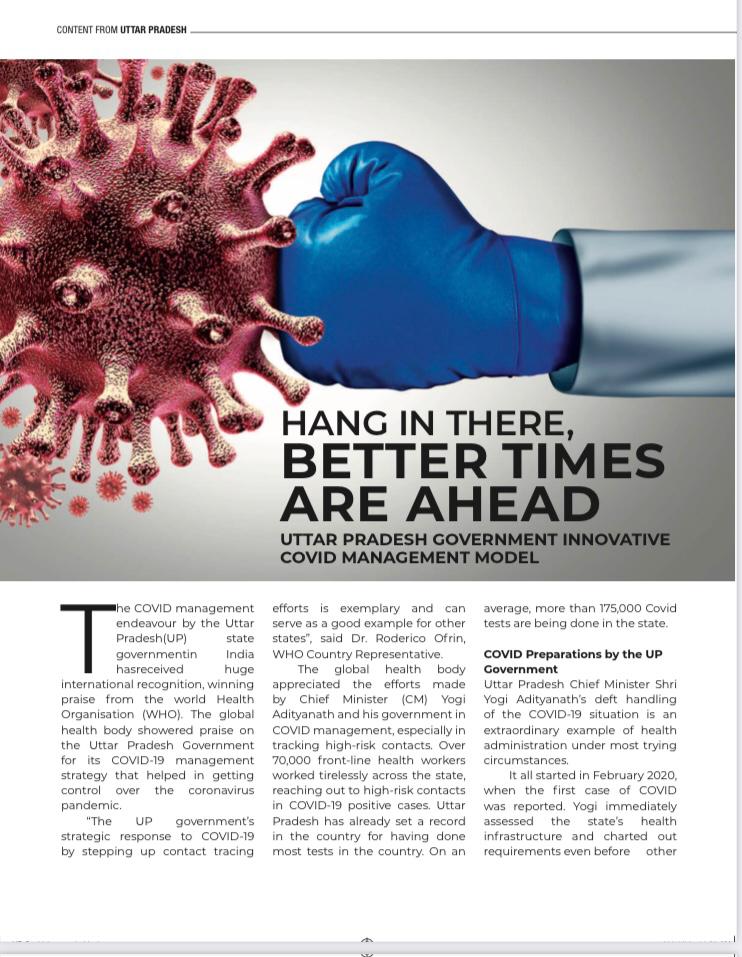 Conclusion: It is evident that a sponsored content by a state govt. on TIME magazine is misrepresented as a report by Indian news channels. News18 has taken down their story and turned it into a  fact check, where ABP has updated their article after being called out. Social media users often mistook sponsored contents as opinions or reports, it is the duty of the mainstream media to alert the users and educate them rather than acting as propaganda machines.