Two-months-old video of DTC personnel complaining about social distancing shared by BJP and Ajay Maken
New Delhi : Chief Minister Arvind Kejriwal on 18 May 2020 announced that public transport will be resumed with social distancing norms. He also said, "In a bus, only 20 passengers will be allowed to travel. The Transport Department will have the responsibility to maintain social distancing during travel and at bus stops". 
After the announcement by Kejriwal, a viral video of  a Delhi Civil Defense personnel in a crowded bus complaining about the transport department's inability to maintain social distancing in the bus and asks who will be held accountable if they get infected.  Many social media users have started sharing the video across Twitter, WhatsApp, and Facebook.
BJP Delhi's official Twitter handle @BJP4Delhi  on May 19, 2020 tweeted this video with a caption,"केजरीवाल जी, आपने तो कहा था कि आप सुनिश्चित करेंगे कि बस में 20 से ज़्यादा लोग एक समय में यात्रा ना करें क्यों लोगों को मरवाना चाहते हो मुख्यमंत्री जी, जवाब दो! ये कैसा मुख्यमंत्री है जिसे जनता की जान की कोई फ़िक्र ही नहीं है! (Translated to- Kejriwal ji, you said that you will make sure no bus will carry more than 20 passengers at a time, referring to the video- do you want to get these people killed? What kind of Chief Minister doesn't  think  about his peoples' lives)".
केजरीवाल जी, आपने तो कहा था कि आप सुनिश्चित करेंगे कि बस में 20 से ज़्यादा लोग एक समय में यात्रा ना करें। क्यों लोगों को मरवाना चाहते हो मुख्यमंत्री जी, जवाब दो!
ये कैसा मुख्यमंत्री है जिसे जनता की जान की कोई फ़िक्र ही नहीं है! pic.twitter.com/SYel2FuI2m

— BJP Delhi (@BJP4Delhi) May 19, 2020
Congress party leader Ajay Maken also tweeted the same video. Archived Link
Ever since Kejriwal came to power, Delhi Govt owned DTC buses have come down by 3000.

Results were obvious today. Stranded passengers at DTC stops & the buses full.

With COVID19 already breaking records, day after day-Now social distancing for a toss- Guess what's in store! 👇 pic.twitter.com/Lz4nqd6CbA

— Ajay Maken (@ajaymaken) May 19, 2020
FactO Check:
When we started to find the source of the video, we found a tweet from Aam Aadmi Party with a screenshot of a WhatsApp group chat. We can see that the video was shared in a WhatsApp group on 27th March 2020.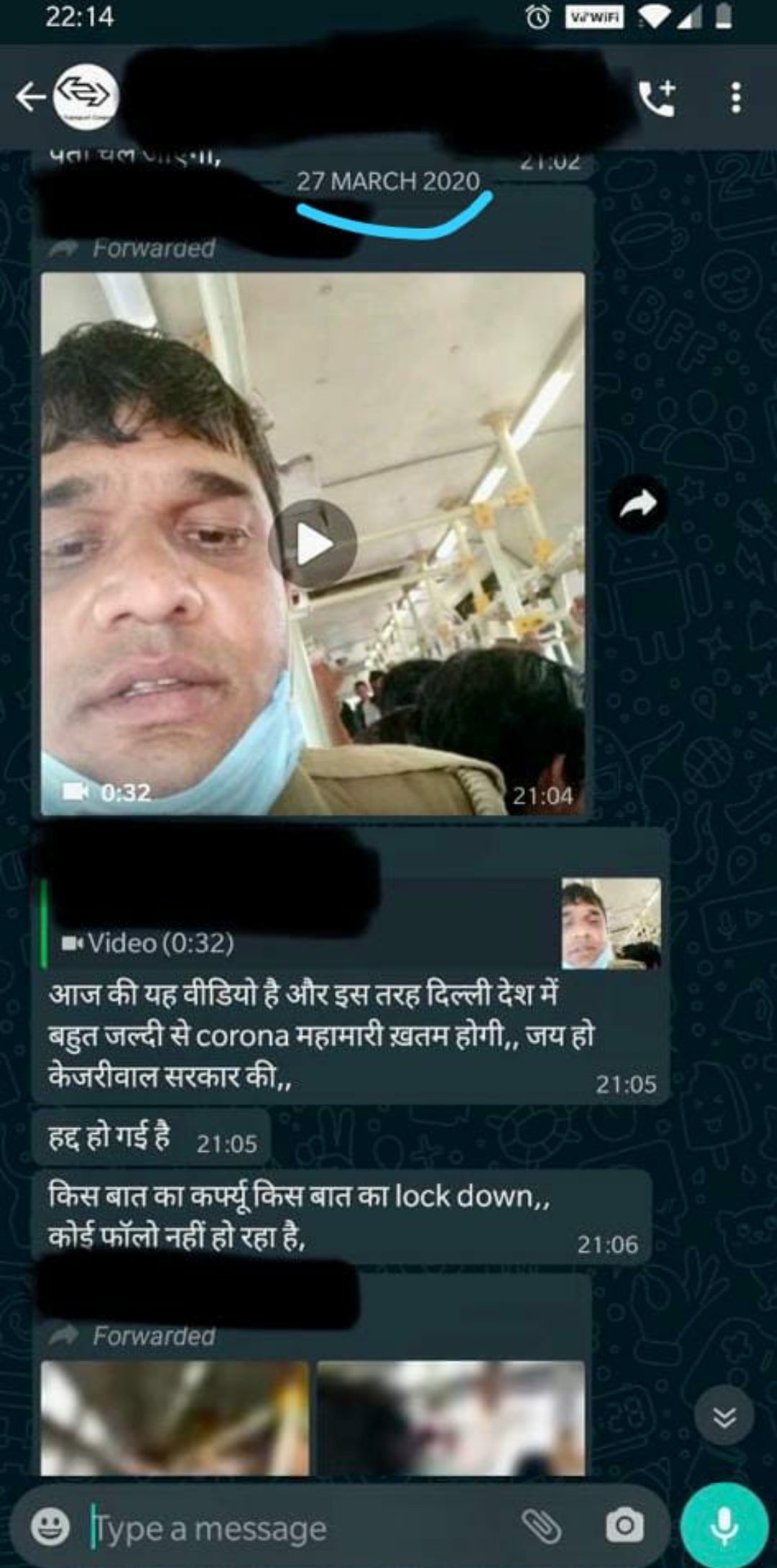 Aam Aadmi Party tweet:
India is facing the worst crisis in its history. Meanwhile @BJP4Delhi is busy peddling fake news.

The video circulated by BJP is from March. https://t.co/OR4QnYO1Hr pic.twitter.com/IKUOzmY7H1

— AAP (@AamAadmiParty) May 19, 2020
According to AAP's  tweet, the video was shared in a WhatsApp group called DTC Karamchari Ekta Union on March 27, 2020.
On 20 May, 2020 Alt News  has debunked this fake claim and published an article. In their article, a video recording of the WhatsApp group conversation was shared to confirm that the video was posted on March 27, 2020.
Courtesy Alt News:
Conclusion:  This is a 2-month-old video. A bus carrying migrant workers to Anand Vihar ISBT on March 27, 2020 is being shared as it happened after Kejriwal's announcement on May 18. The claim is misleading and fake.
Verdict: FALSE
Who is Javed Qureshi? Just a local Kashmiri slamming Mehbooba Mufti?
Jammu: A video of a Muslim man tearing his Kurta and shouting "Hindustan live within us" has gone viral with a claim as a Local man from Jammu and Kashmir is slamming the PDP Chief after she made a controversial statement. A Twitter user @TheSkandar tweeted "Hello @MehboobaMufti , a local Kashmiri Javid Qureshi have a message for you." The tweet by @TheSkandar comes after PDP chief and former J&K chief minister made a controversial statement, where she said she would only hold the national tricolor when the flag of the erstwhile state is restored.
Hello Traitor @MehboobaMufti, a local Kashmiri Javid Qureshi have a message for you. pic.twitter.com/bPlY2qLVJQ

— Al iskandar (@TheSkandar) October 24, 2020
The tweet was endorsed by Zee news anchor Sudhir Chaudhary. The tweet is viral on Twitter where hundreds of users are claiming it that its a video of a local Kashmiri. Find here.
Jammu- Kashmir Now, who claims to bring facts and information about J&K has also tweeted the video of Javed Qureshi.
A local Kashmiri Javid Qureshi replies to Mehbooba Mufti;
''Hindustan Hamare Dil me basta hai…''.

BJP Mmeber from North Kashmir, Javid Qureshi staged a protest against Mehbooba today. pic.twitter.com/3Ayp5AwVd4

— Jammu-Kashmir Now (@JammuKashmirNow) October 24, 2020
Who is Javed Qureshi:
We did a keyword search to know about Javed Qureshi, and found a photo of him with a BJP scarf addressing media. We found an article published in June 2020 by KNS Kashmir, covering the story of Javed Quareshi attending Jammu and Kashmir Jan Samvad rally which was hosted virtually by Defence Minister and senior BJP leader Rajnath Singh on Sunday(14th June 2020). We also found an YouTube video with the caption "#BJP leader Javed Qureshi keeps Roza for the speedy recovery of Union Home Minister #AmitShah", when he announced to fast until Home minister Amit Shat gets recovered from Covid19.
We also found another article published by DNA India, on july 25th. DNA reported "Muslim BJP leader fasts for quick recovery of J&K party chief Ravinder Raina". According to the article Javaid Qureshi, a senior BJP leader from Kupwara in the Union Territory, is fasting for the early recovery of Raina.
When Mr. Javed Qureshi claims to be a BJP man and several media reports also acknowledges the same in multiple articles, a senior BJP leader, and former MLC, Sofi Yousuf made some contradictory statements. He told Fast Kashmir on 30th Sep 2020 that "Javaid Qureshi alias Javed Molvi of Handwara is no more associated with the party". Another article published on 8th August by KNS Kashmir says that Bhartiya Janata Party (BJP) Kupwara has distanced itself from the statement of its activist Javed Qureshi and said the party will take tough action against his repeated breach of protocol in coming days.
In the 2019 Lok Sabha election, he contested as an Independent candidate. When he claimed to be a BJP leader/Activist, BJP distanced itself from his activities in J&K in the name of BJP. Sofi Yousuf told "The Kashmiriyat" that there is a person called Rajeev Chandeel who runs some 'BJP Modi-Shah Mission' and he has nominated Javed Qureshi as State BJP President for Jammu and Kashmir. There are people from Jammu and Kashmir who have met him and he has entrusted them with assignments. We don't know where from this Rajeev Chandeel is and those who are meeting him are defaming BJP, Sofi said.
Conclusion: FactO News in anyway doesn't endorse or support Mehbooba Mufti's statements. From the sources we found, it is evident that Mr. Qureshi is/was an active member of the BJP party and he is not just any local kashmiri. There is a difference between a local Kashmiri's opinion and a politician's opinion which's influenced by a party. The intention of this article is to only let readers know that certain sections of social media users are trying to portray politician's opinions and their public stunts as of local Kashmiris. This kind of practise would suppress the real voice of the society, influence their judgments and opinions.
Kangana Ranaut lies that she was forced to vote Shiv Sena in 2019 polls, threatens journalist after proved wrong
Mumbai: Kangana Ranaut has been in national media since she started being vocal about Sushant Singh Rajput's suicide. What started as a war on nepotism and "Justice for Sushant", a series of dramatic events has shifted the topic to consumption of drugs in Bollywood. She further went on to compare Mumbai with POK(Pakistan Occupied Kashmir), and challenged anyone to stop her visiting Mumbai on September 9th after receiving a lot of political backlash from the leaders of Shiv Sena party. BMC demolished part of her Bandra office citing illegal construction after her visit.
In a recent interview on Times Now with Navika Kumar, Kangana claimed that she was forced to vote for Shiv Sena Party due to its alliance with the Bharatiya Janata Party. She said, "I am a BJP supporter, why should I vote for Shiv Sena? See I don't understand politics, I am very naive. I don't know why these groupisms happen but I was forced to put my hand on Shiv Sena button because there was no option of BJP. Their alliance for those areas was only and only Shiv Sena so I voted for them and this is the treatment I am getting."
Shiv Sena and BJP contested Maharashtra State and General Elections together, later Shiv Sena separated from BJP and formed Government in Maharashtra in an alliance with NCP and Congress.
I voted for Sena though I support BJP. But I was 'forced' to vote due to their alliance: Kangana Ranaut (@KanganaTeam), Actor tells Navika Kumar on #FranklySpeakingWithKangana. pic.twitter.com/XlFh0ngmxI

— TIMES NOW (@TimesNow) September 16, 2020
FactO Check:
If Kangana Ranaut is talking about Vidhan Sabha election, the area in which her vote was registered comes under Bandra East constituency. In the 2019 Vidhan Sabha Election,  Av. Ashis Shelar of BJP contested from "Vandre West (Bandra West) in an alliance with Shiv Sena. Also, according to an article published on Amar Ujala, Kangana was not in Mumbai during Vidhan Sabha Election as she went to Delhi to meet PM Modi on 19th OCT and couldn't return back by polling day.
When it comes to Lok Sabha ELections, according to a tweet by ANI, Kangana did vote on 29th APRIL, in Mumbai. ANI tweets "Actor Kangana Ranaut after casting her vote at a polling booth in Khar." Khar, comes under the Mumbai Suburban district, which is a part of the Bandra West assembly constituency and Mumbai North Central Lok Sabha constituency. BJP (in alliance with Shiv Sena) candidate Poonam Mahajan contested and won from Mumbai North Central constituency.
#Mumbai: Actor Kangana Ranaut after casting her vote at a polling booth in Khar. #LokSabhaElections2019 pic.twitter.com/L4nXhMbyvj

— ANI (@ANI) April 29, 2019
BJP Candidate Poonam Mahajan coming out from polling booth, Worli.
#Mumbai: BJP MP Candidate from Mumbai North Central, Poonam Mahajan casts her vote at polling booth number 48 in Worli. pic.twitter.com/muecE30tIC

— ANI (@ANI) April 29, 2019
So, Kangana's claim that she was forced to vote Shiv Sena due to the BJP-Sena alliance is found to be false. When an India Today Journalist @kamleshsutar called out her fake claims on twitter, she threatened him of Legal action. She tried to justify her statement by saying that she was referring to the Lok Sabha election.
Later she deleted her two tweets when Journalist Kamlesh Sutar proved her wrong again.
With due respect,even if you are talking about Loksabha elections, you voted in Khar (BPM School as you mentioned in your earlier tweet) it is still part of Mumbai North Central constituency from where @poonam_mahajan of the BJP -Shivsena alliance was the candidate. 🙏

— Kamlesh Sutar (@kamleshsutar) September 17, 2020
Conclusion: Kangana Ranaut was found to be lying on national TV. Even after lying, she backed her claim on twitter and later deleted after fact-checked by India Today Editor kamlesh Sutar.
Old images of convoy are viral as Karni Sena reaching Mumbai to support Kangana Ranaut
Mumbai: Kangana Ranaut and Shiv Sena leaders engaged in a verbal spat after the former compared Mumbai to PoK (Pakistan Occupied Kashmir). Responding to Kangana's statement, Sanjay Raut of Shiv Sena said that if Kangana feels unsafe in Mumbai, then she should not come to the city, to which Kangana responded that she would come to Mumbai on September 9 and challenged anyone to stop her. Following the events, many social media users and political leaders have appealed to the Central govt. to provide Kangana security. Just before her arrival in Mumbai, the Central govt. has granted Y plus security to her.
Several social media users have pledged their support to Kangana. Meanwhile, Karni Sena has come forward to pledge their support to Kangana. According to The Week  and TOI, Karni Sena said its members will provide security to Kangana Ranaut and escort her from airport to her home. Since then, a picture of convoy of vehicles is going viral across social media with a claim that, in order to protect Kangana Ranaut, Karni Sena left for Mumbai with over 1000 vehicles.
A parody account of Kangana posted these fake photos which got over 2K RTs.
Karni Sena sent 100 vehicles in support.

A BIG THANKS from India.

#DeathOfDemocracy pic.twitter.com/0sgWsF6BLe

— Kangana Ranaut (@Kanganaoffical7) September 9, 2020
A Facebook user, "Awadh Bihari Verma"  has posted the same picture in a public group  "Sudhir Chaudhary" with a claim, "कंगना राणावत के सम्मान में, 1000 गाड़ियों के साथ करणी सेना महाराष्ट्र रवाना। जय भवानी जय राजपूताना। अब देखो हमारी ताकत।।।जय श्री राम
". The viral post has garnered over 7.6k comments and 15k shares.
Another Twitter user @AnjaliYadav007 shared the same images with the same claim in her handle.
FactO Check:
A reverse image search of the above images directed us to social media posts between 2016 and 2017.  A Facebook user "Barmer Congress" has shared this picture on 22 March 2016, with a caption, "Carcade of #RPCC CHief Shri Sachin Pilot and #AICC Secretary Shri Harish Chaudhary".

A Twitter user @KrantiTiwari1 has tweeted the above image on March 22, 2016 claiming that the convoy is of Rajasthan PCC chief Sachin Pilot.
यह राजस्थान के लोकप्रिय कांग्रेस अध्यक्ष श्री सचिन पायलट जी का काफिला है । @PilotSachin @INCIndia @SachinPilotPCC pic.twitter.com/DOLJfL2QIR

— Kranti Tiwari INC (@KrantiTiwari1) March 22, 2016
— Army ka FeN.(Ankit ) (@AnkitPr21021684) March 5, 2017
Conclusion: It is evident that the viral pictures are not from Karni Sena's convoy reaching Mumbai. Old images are shared on social media claiming it to be of Karni Sena's. The viral claims are false and misleading.